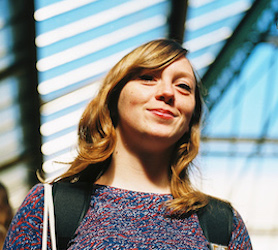 I have spent years between France, the UK and the US.
Working in the arts and my background in postcolonial English literature have given me a culture of thinking about, connecting and translating concepts.

I now specialise in content strategy and product management, helping teams connect and advance on their projects in open and collaborative environments.

I like to embed in teams to encounter work cultures, bringing a UX approach when needed.

I like the web's culture of contribution and giving back and I apply it to my fields of expertise. I volunteer on interpreting conferences or translating articles from English to French and vice versa.

Special interests include: food, media literacy, arts and technology, information design, podcasts, being crafty and hiking.

Here's my CV if you'd like to have a look.
You can also drop me a line here, I'd love to hear from you.
---
Learning by doing and learning by listening.
Here's a quick view of people I look up to.
Role models
I love having brilliant women as role models.

On inclusive hiring, diversity in professional environments, general good tips:
Stacy Marie Ishmael. Discovered on an episode of podcast Another Round, this former mobile editor at Buzzfeed New York has a great newsletter called Amazing Women. Expect advocacy for diversity in teams, general professional advice and great questions.

For analog data visualisation, visual intelligence and political engagement:
Mona Chalabi. I first discovered Mona Chalabi through her mini-series Vagina Dispatches (aimed at exploring the critically under-documented aspects of female anatomy - a great watch). Data editor at the Guardian US, her unmistakable hand-drawn style makes data feel more approachable, and who wouldn't love that?
On the same topic, I also very much admire Giorgia Lupi.

For her work on accountability, societal issues connected to digital use, engagement:
Danah Boyd. Don't miss out on her work at Data&Society in New York, and you can hear more about herself and her path as a researcher here.